Robotic Process Automation
RPA aims to automate high volume, routine, mundane, and repetitive human tasks using a digital workforce – a scalable and reliable army of trained software robots. The RPA technology empowers team members/team resources to focus on more value-added work, boosting team efficiency and productivity. Leverage our depth in RPA for a standalone RPA application or in conjunction with Low-code Process Automation to quickly automate your operations.
Automate repetitive and manual tasks
Every organization today needs digital automation to increase revenue, lower costs, and improve customer experience. While Business Process Management (BPM) has significantly enabled automation of business processes over the last decade or so, Robotic Process Automation (RPA) is yet another giant step towards achieving this goal.
Robotic Process Automation (RPA) technology helps design, build, train, and operate software robots that automate repetitive and predictable human tasks. For example, monitoring emails, reading a PDF attachment, manipulating, aggregating data, and more! RPA also helps you integrate with applications that do not provide APIs for integration.
With RPA, you can deploy a digital workforce that executes volumes of repetitive tasks without any human intervention. Once trained, this army of software robots will perform such tasks flawlessly, giving you complete control and visibility into their execution. These robots are humble (and smart) enough to hand over tasks to humans in case any exception occurs.
Digital Workforce for mundane tasks and Human Workforce for value-added tasks.
Enter an office of any corporation and you will see many qualified and skilled individuals performing mundane and repetitive tasks on their computers. Examples include copy-pasting information from a document to another, re-entering data into multiple systems, or simply maintaining records in an Excel sheet. How about making these individuals focus on tasks that add more value to the organization?
Routine and mundane tasks tend to bring boredom and reduce employee motivation, making them error-prone.
An organization needs RPA to take over repetitive and mundane tasks from human so that they are free to focus on more strategic and value-added work such as Product Design, Strategy, Customer Engagement, or handling exceptional scenarios that a bot cannot. By handing over mundane tasks to a bot, organizations can make their human workforce more motivated and focused to improve efficiency and productivity.
Synergies for Process Excellence
Both RPA and BPM aim to improve the efficiency of a business process through automation, accuracy, visibility, and scale. The ways and means with which these two distinct technologies achieve process transformation are different. While BPM focuses on automating end-to-end business processes bringing multiple people and systems together in a unified process layer, RPA focuses on automating individual mundane tasks via trained software bots. These two technologies complement each other significantly and offer synergies to deliver immense combined value to customers.
Princeton Blue has vast experience and skill set in both – BPM and RPA. We have built strong capabilities to support clients with RPA initiatives. If you already own a BPM platform, we will help you take advantage of the synergies between the two to maximize the value your BPM investment.
Here are a few examples of how RPA and BPM complement each other:
An Order Entry process automated on BPM has a task of entering data into two different systems manually - automated by RPA to improve efficiency
An invoice received as a PDF is read manually and entered into a system - automated by RPA triggering an invoice process in BPM to respond in real time.
RPA robot encounters exception that it cannot handle - triggers human intervention via BPM. For example, an RPA Robot reading data from an Excel file and validating it before entering the data in an application, triggers an exception and notifies the human if the data is not valid.
Business rules in a BPM process decide if an activity needs human intervention or can be handed over to an RPA bot. For example, actions such as, data entry, searching, copy and pasting, or pulling together reports from different places can be performed by bots.
Benefits of RPA?
Efficiency, Accuracy and Scale
Significant reduction in FTEs with automation of manual tasks
Once trained, robots can precisely execute the same task any number of times, eliminating possible human errors
Robots can be scaled to handle spikes in workload and can execute large number of tasks quickly
RPA enables the human workforce to focus on value-added work rather than mundane, repetitive tasks
Get rid of fatigue and boredom of human workforce brought in by mundane work
RPA provides deep insights and a complete audit trail of the execution of tasks by robots
Why work with
Princeton Blue?
---
---
At Princeton Blue, our mission is to help you innovate in your Low-code Process Automation journey. With exclusive focus on Low-code, BPM and RPA, we have partnered with our customers in driving process excellence and innovation for over a decade.
Strong experience and credibility
With 644 Low-code Process Automation projects executed over more than a decade, we bring credibility and experience to the table. All our consultants are certified on Low-code technology platforms and have extensive experience in implementing projects of varying sizes.
With dozens of award winning solutions built at our Innovation Lab, get started quickly on your automation journey. Experience the innovative and futuristic technologies in action before investing into them.
Recognized Thought Leadership
Princeton Blue is recognized by leading industry analysts Gartner and Forrester as a leading provider of Low-code Process Automation in various process automation reports. Besides sponsoring and presenting at several industry conferences, we also host our own executive summit for customers to share ideas and best practices.
Our globally distributed team allows our customers to get the highest value from their automation investments. The Global Solution Center in India helps build superior technology solutions and offer services for our customers at optimized price.
Automate repetitive and manual tasks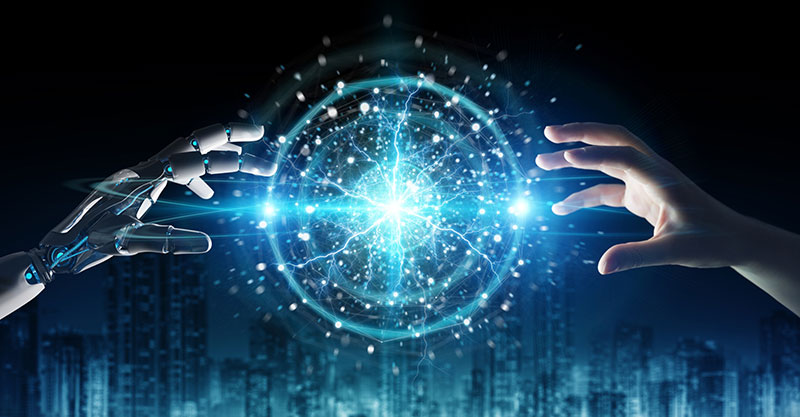 The impact of automation on people's jobs has been both a sensitive and exciting topic going back even to the industrial revolution. Today and the …
Read more