Low-code Process Automation provides a unified view of your enterprise data and integrates with your existing applications via workflow and business rules to automate your most strategic and complex business processes to provide a modern customer experience, improved operational performance and greater process transparency. See how it all comes together.
What is Low-code?
Low-code is an approach where apps are built rapidly with almost no code using a low-code application development platform. The platform enables the creation of modern applications with rich and responsive user interface, using visual, declarative techniques instead of writing code. These applications are typically built quickly, at significantly lower costs and with minimal training. Here are some key features of the Low-code platform that enable this capability:
Visual Modelling of Logic
Developers can model business processes and logic instead of hard-wiring them in code
Visual Modelling of Data
Data is modelled and managed using rich tools as opposed to writing custom queries and scripts
Easy Integrations
Out-of-the-box connectivity and integrations with popular cloud and on-premise applications and services
One-click Deployment
Packaging and deployment of apps across platforms on-premise or on the cloud
Drag-and-Drop tools for Modern User Interfaces
Easy assembly of mobile enabled, rich and modern user interfaces without the need to write code
Enterprise Grade Security
Apps and the data are highly secured using industry standards for security and access control
Low-code Solution Architecture
Workflow, BPM and Case Management
Make your processes efficient, agile, transparent, and scalable. Automate workflows and customize them in real-time. Reduce cost, improve efficiency, and transparency.
Business Rules
Manage rules, conditions, and exceptions for different workflows with a friendly user interface that can be maintained by business teams, reducing dependency on IT.
Data Fabric
Unify enterprise data across all your legacy applications to rapidly build powerful applications. Break down silos between your existing systems with this orchestration layer.
Process Mining
Identify inefficiencies, bottlenecks in your processes and optimize them to increase overall efficiency. Comply with regulatory requirements and take proactive corrective action.
Robotic Process Automation (RPA)
Automate high volume, routine, and repetitive human tasks with software bots. Free your teams to focus on more value-added tasks, boosting team efficiency and productivity.
Intelligent Document Processing
Automate data extraction from your business documents with native AI capabilities quickly and accurately. Eliminate manual document processing and associated data entry errors.
Mobile, Portals and UI/UX
Enable external users to connect to your applications to submit forms, file claims, view documents and more. Build once and let the platform render intelligently on any device.
Low-code Application Development
All these technologies are delivered via a Low-code platform allowing the application to be created in weeks and easily maintained as the business requirements change.
Why Work with Princeton Blue?
Princeton Blue is recognized by leading industry analysts for deep expertise in Low-code Process Automation technologies and decades of work experience in the Life Sciences industry. Some of the world's largest pharmaceutical and biotech companies trust us to automate their most strategic business processes.
Use our Innovation Lab to build a Proof of Concept before you invest in Appian. Brainstorm with our team of experts and see what works best for you.
This is a very popular service and is used by many of our clients. We have delivered numerous Proof of Concepts for our clients. Contact us if you have a use case in mind and see how our Innovation Lab can help you.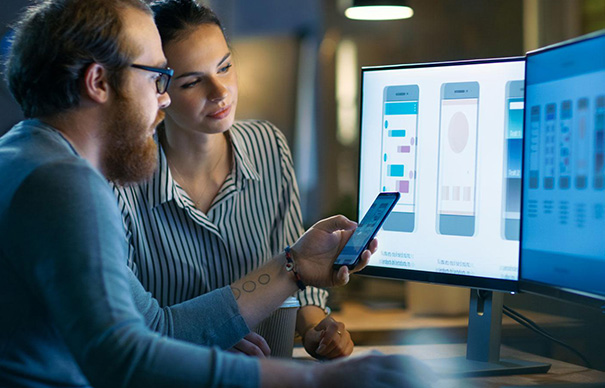 Kick-start your process automation journey